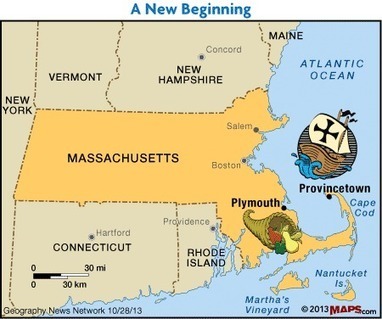 "Thanksgiving has some fascinating spatial components to it.  My wife and I prepared an article for the Geography News Network on Maps101.com that shows the historical and geographic context of the first Thanksgiving and in the memorialization of Thanksgiving as a national holiday (if you don't subscribe to Maps 101, it is also freely available as a podcast on Stitcher Radio or iTunes)."
One of my favorite combinations of maps for Thanksgiving involves the geography of food production and food consumption.  When we start looking at the regional dishes on Thanksgiving plates we can see some great patterns.  This ESRI storymap asks the simple question, where did your Thanksgiving Dinner come From?
This StoryMap is a great resource to combine with this New York Times article that shows the regional preferences for the most popular Thanksgiving recipes.  Where are sweet potatoes grown?  Where do people make sweet potato pie for Thanksgiving? 
Plymouth County, MA is at the heart of only 3 cranberry producing regions and is was also home to the first Thanksgiving.  How has this New England local ecology and traditional food patterns influenced national traditions? 
For these and more Thanksgiving resources on scoop.it, click here.
See on geographyeducation.org